SONATEST T-GAGE V SERIES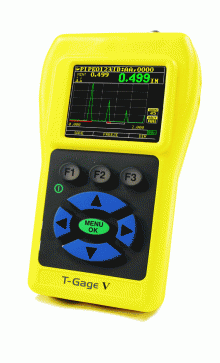 The T-Gage V series offers the latest technologies that will make your job easier and has been built to perform in the roughest of industry conditions. The suite of gauges come with monochrome displays as standard. To enhance the user experience a colour display (C) can be configured, as can the additional A-Scan functionality(W). Simple upgrade options are available throughout the life of your gauge.
The T-Gage VB is a basic variable velocity gauge with probe. The T-Gage VB is the most economical model designed to make reliable, accurate thickness readings; primarily on steel structures with access to only one side. Packaged in custom moulded high density casing, with a rubber keypad, this gauge offers the end user asimple working interface. This model is easily upgradeable in the field to deliver datalogging functions.
As a mid-range model the T-Gage V offers the most popular features in a thickness gauge including echo-to-echo(E-E). These include increase/decrease in gain;vibrate & illuminate the keypad on alarm conditions and with the "transducer attendant" the end user is notified when to replace the transducer. Simple field upgradeable options include A/B-Scan capability and the datalogging software, Data XLS.
The T-Gage VDL is the top of the range model offering all the features of the VDL together with the the flexible data logger, taking up to 50,000 readings, B-Scan and Echo-to-Echo functions. It also includes the Data Management Software, customised pouch, belt clip and elasticated hand strap to easily use the unit in either hand.
Download files