SREM PF510 PROJECTOR UV-A LEDS 5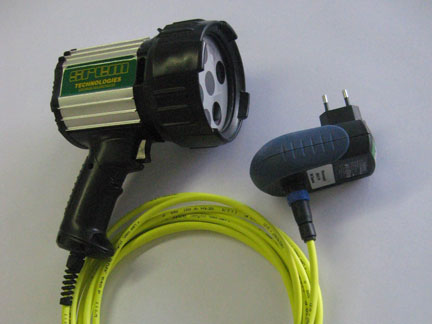 SREM PF510 PROJECTOR UV-A LEDS 5 visible light projector.
Maximum ultraviolet irradiance UV-A 8500 mW / cm² measured at 40 cm with a flare 5 lux.
Features:
Lower weight about 400 grams.
No electrical hazard (operating voltage of 6.5 V maximum)
No hot spot (no risk of burning)
UV-A intensity maximum, since the ignition of the light (no warm-up time)
Light source cantered on the UV-A (no UV-C and UV-B)
Very low stray light source (white light)
Power consumption up to 10 times lower.
Unit with 1 year warranty - parts and labour.
Light source (LED) warranty 10,000 hours of operation.
Download files