SONATEST SITESCAN D+ SERIES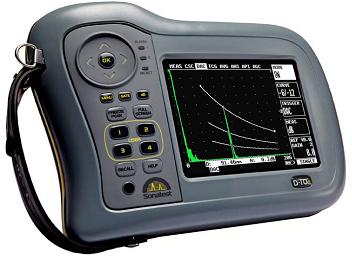 The Sitescan D+ delivers high performance and advanced features, yet our engineer's experience in user interface design has ensured it is easy and quick to use. The acknowledged ease of use of previous generation Sitescans has been enhanced with the menu navigation scrolling wheel, providing easy access to functions.
The Sitescan D-10+ has a broad band amplifier compatible with wide range of transducers whilst the D-20+ has several narrow bands for improved performance. The "analogue feel" from the high quality broad and amplifier shows all the details required to identify defect types such as holes or cracks, and sufficient resolution for identifying small signals. Typical applications are weld inspection, corrosion testing, small castings, forgings and delamination checking.
The Sitescan D+ series has a large colour transflective TFT display as standard, proving high visibility at any light level. The choice of colours for menus and waveform display enhance clarity, with the LCD simulation mode giving direct sunlight readability. The full screen mode maximises the A-scan area to improve readability further whilst testing and its fast response and peak capture functionality ensure any indication is clearly displayed, even if it only appears for one cycle of the PRF.
The Windows based data management tool interfaces the Sitescan D+ series to a PC. The Lite version comes as standard with the capability to capture the displayed A-scan and transfer it to Microsoft Word. This is useful for producing application notes or reporting indications.
Thickness measurement is a major application of the Sitescan D+ series and good data logging tools are essential to productivity. As standard, Sitescan has the ability to store readings in a two or three dimensional grid format or download test sequence files from asset management software. In addition to the basic thickness reading, the user can store the A-scan and user defined roles, or with the B-scan option, a full B-scan image. Reviewing readings is easy using the scroll wheel and the USB connection enables faster transfer of data.
Download files